Speckle Reduction Filter™ (SRF™)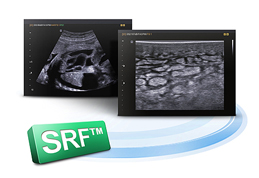 Speckle noise is a granular noise that increases the mean grey level of a local area. Reduction of this is vital for accurate image interpretation. Speckle Reduction Filter™ (SRF™) improves image quality by minimising or eliminating the unnecessary echoes from ultrasound images. Flexibility is enhanced by the ability of the user to select the degree to which the decrease is implemented, enabling greater control of the process.
Slim & Compact Design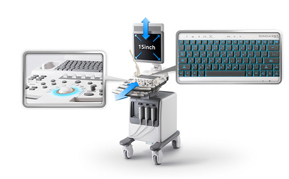 The highly practical SonoAce R5 incorporates a wide range of ergonomic features into a simple and compact package. Weighing in at a total of just 52kg, with four swivel wheels and front and back handles for easy mobility, it offers portability and convenience without sacrificing performance. The simple user interface, height-adjustable control panel and backlit keyboard combine to create a tool which enables practitioners to increase efficiency and patient throughput. By utilising outstanding 3D color technology, its 15-inch LED monitor displays clear, easily-viewable images up to 640 x 450 pixels to aid increased diagnostic accuracy.